GRANT PROPOSAL for Digitizing Negatives, Prints and Focus Books... 2015-2016
Project Title: STAR-SPANGLED:
Picturing America after 9/11, from Cape Cod to the Santa Monica Pier
Medium: B/W Photography
Photographer: Roger Arvid Anderson
Fiscal Sponsor: Artspire, a program of the New York Foundation for the Arts (NYFA)
20 Jay Street, Suite 740, Brooklyn, NY 11201
Archival Centers: National September 11 Memorial & Museum
at the World Trade Center
299 Liberty Street, 16th Floor
New York, NY 10281
Attn: Jan Ramirez, Chief Curator

University of Minnesota Archives
Special Collections and Rare Books
Suite 111, Elmer L. Andersen Library
222 - 21st Avenue South
Minneapolis, MN 55455
Attn: Timothy J. Johnson, Curator
Grant Type: Funding for digitizing 3500 negatives and making sets of master prints for institutional archives.
Additional funding for making focus books.
Contents:
A. Nature of the Request
B. Project Mission
C. Introduction to the Subject
D. History Happens, A National Perspective
E. Star-Spangled, The Journey... An essay by the photographer (Visit detail page)
F. Roger Arvid Anderson, biography (Visit detail page)
G. Work Plan, Budget, Staff and Scholars
H. Mission of NYFA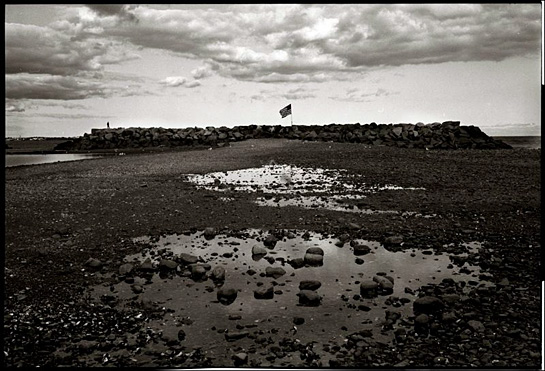 STAR-SPANGLED
A. NATURE OF THE REQUEST
Artspire, a program of The New York Foundation for the Arts (NYFA) as a fiscal sponsor is seeking funding for the project: STAR-SPANGLED: Picturing America after 9/11, from Cape Cod to the Santa Monica Pier. A photographic essay by Roger Arvid Anderson on a theme of national mourning and remembrance. The Foundation is a 501c3 corporation: under Internal Revenue Service regulations it qualifies as tax-exempt.
At this time we are seeking funding for digitizing 3500 negatives as well as making a master sets of prints drawn from the digital files. These digital files and master prints will be archived with the 9/11 Museum in New York and the archives of the University of Minnesota in Minneapolis. Additional funding is needed for making focus books which will serve in a permanent format the documentary needs of university archives, museums and history centers.
San Francisco artist and photographer Roger Arvid Anderson is what the 9/11 Museum in New York calls an 'aftermath photographer' in the sense that he recorded the public response to the events of 9/11, but as they happened after the event, such as the many memorials to the victims and heroes erected around the country.
The time period covered is a year in the life of America after 9/11, and the geographic area covered is national in scope. In traveling the country Roger Arvid Anderson took over 32,000 images on more than 800 rolls of 35 mm film and over 400 rolls of 120 mm film.
Please note that the 9/11 Memorial & Museum at the World Trade Center has drawn up a formal Statement of Understanding demonstrating its institutional interest in becoming a repository for the Star-Spangled images in both digital and print format. The document dated June 5, 2015 is signed by the Chief Curator, Jan Ramirez. Copies are available.
B. PROJECT MISSION
At this time STAR-SPANGLED is the largest undocumented 9/11 photographic essay. The project's mission is to make this important historical document available to the General Public and scholars through the following options:
An IMAGE BANK with 3500 digitized primary images drawn from over 32,000 negatives... The IMAGE BANK will appear as an online catalogue. With funding the 9/11 Museum in New York will act as the host for that online presence. To reach this goal the project requires the assistance of digital specialists experienced in photoshop as the negatives need to be edited and drum-scanned. The digital file for each images needs to be perfected so it can be posted in the online catalogue. It can also be used for making prints and illustrating focus books.
The publication of BOOKS IN A SERIES OF FOCUS VOLUMES based on themes drawn from the Star-Spangled Image Bank... These books would be designed to meet the educational needs of library archives, history centers and museums, and will serve as a permanent record of the images. One such book is MANNAHATTA, After 9/11, an artist's book designed and printed by Christopher Benson of Fisher Press in Santa Fe. This 96 page book is a hand-bound, archival ink-printed volume of 66 photographs taken in New York City, and includes 14 poems by Walt Whitman. This book came out in 2015 and is limited to 30 copies and funds are needed to give copies to appropriate university, museum and national archives such as the Library of Congress. This book can be seen in its online format at www.RogerArvidBooks.com. Other books in development are LIBERTY STREET, selected triptychs based on the New York images; SO GALLANTLY STREAMING, California After 9/11; SONG OF THE OPEN ROAD, New England After 9/11: and A CHILD WENT FORTH, Children's Art of 9/11.
The production of a MASTER SET OF PRINTS... to be housed at the 9/11 Museum in New York and the archives of the University of Minnesota in Minneapolis.
The creation of EXHIBITIONS... which can either be general in scope or narrowed to focus exhibitions based on various themes drawn from the Image Bank. With current technology exhibition prints can be printed in a variety of sizes including the possibility of wall-sized images printed on giant sheets of vinyl. Exhibitions have the potential to be packaged for travel to museums, university galleries and history centers. Exhibition catalogues can be drawn from the focus books. (See link)
STAR-SPANGLED ARCHIVES at accredited institutions. The 9/11 Memorial & Museum at the World Trade Center, and Special Collections and Rare Books of the archives of the University of Minnesota have generously agreed to be archival homes for digital files and master prints generated by this project. One goal is to add a West Coast archive to the project.
C. INTRODUCTION TO THE SUBJECT
9/11 has been the subject of many photographic essays. In documenting the public response to the tragedy two other projects are especially noteworthy as models. One is Nathan Lyon's 2003 book and exhibition of B/W photographs, "After 9/11" published by the Yale University Art Gallery. The other is Jonathan Hyman's 2006 book and exhibition, "9/11 and the American Landscape" sponsored by the National September 11 Memorial & Museum in New York City.
The fifteenth anniversary of 9/11 is in 2016 and Roger Arvid Anderson's photographic essay Star-Spangled, at over 32,000 images, is now the last of these important cultural and artistic documents to surface. By the nature of its scale, variety and artistic largess it deserves at this time to be introduced to serious scholarship and to the general public for online examination and exhibition. It is particularly appropriate to scholars of the humanities as its many layers of both social exposition and personal exploration during challenging times invites both intellectual dialogue and introspection.
For example, Anderson's journey across America may have focused on the nation's response to 9/11, yet his journey also fits into that other photographic genre known as the Great American Road-trip. A noteworthy model in that vein would be "Looking In, Robert Frank's The Americans", an exhibition and catalog curated by Sarah Greenough of the National Gallery of Art, which traveled to three venues in 2009.
Unlike Robert Frank's road-trip, which was funded by a Guggenheim Fellowship, or the road-trips in the thirties by Walker Evans and Dorothea Lange, which were funded by the FSA, Anderson's trip was totally a personal commitment inspired by the courage of the 9/11 heroes. It was also informed by an educated eye, yet at the same time it is neither an exercise in nostalgia nor for that matter a platform for an existential pessimism. Nor is this visual meditation a young man's first story. Anderson had just turned 55 in August of 2001. In many respects it is a magnum opus as all of his life's learning as an artist and scholar was brought to bear on this project. His sense of pictorial adventure shows his debt to his predecessors in street photography such as Cartier-Bresson and Andre Kertesz. His sense of pictorial composition shows his debt to such modernists as Moholy-Nagy, Paul Strand, Alfred Steiglitz and Berenice Abbott whose razor-sharp views of New York City where certainly fixed in Anderson's mind while walking those same dusty streets in November of 2001. Anderson's photographs belong to an American continuum of reportage. Individually or in sequences, his images range from an iconic majesty to those that celebrate the ordinary with a straightforward documentary veracity.
A body of work this large of course needs to be categorized and classified. Anderson's American scene, numbering over 32,000 images, can be looked at in a number of ways: one as the people, the places and the memorials, or it can be followed geographically as it crosses the country from Cape Cod on the Atlantic to the Santa Monica Pier on the Pacific. It should also be noted that the other 9/11 photographers did not take in account the American West. Anderson's photographs of San Francisco, Sausalito, Berkeley, Los Angeles, North Hollywood and Santa Monica now redress some of that missing evidence as these communities can now take their place, with so many others, in that great compendium of images devoted to the history of 9/11.
All in all STAR-SPANGLED is a monumental undertaking, which is why Anderson calls it his memorial in service of all those other memorials to the honored dead.
D. HISTORY HAPPENS, A National Perspective
History happens, and not only does it happen to others, it happens to us. By us I am referring to
the proverbial you and me. In the early years of television in the fifties Walter Cronkite was the
regular host of a program called 'You Are There'. The series featured dramatic recreations of key
events in American and World history. Cronkite, dressed in a suit and tie and seated at his anchor
desk in New York, would report on the action and interview characters like Marie Antoinette. At
the end of the program Cronkite would turn to the television audience and remind them, "What
sort of day was it? A day like all days, filled with those events that alter and illuminate our
times... and you were there."
And now we are there. Over the last fifty years, starting with the live coverage of the Kennedy
assassination in 1963, television news has replaced newspaper headlines as our instant access to
the events of the day. The time gap continues to shrink. 9/11 will certainly be remembered as a
national tragedy, but also remembered as an event witnessed by the world, much of it as it was
happening. We all became participants in a grim but astounding reality show... Hi-jacked planes
smash into the twin towers of the World Trade Center and then the Pentagon. Fast-acting heroes
prevent another plane from hitting the White House... Not only is the nation shocked, it is
watching...
9/12, the day after... Overnight, ordinary Americans all over the country put up spontaneous
placards and memorials to those who had sacrificed their lives. Photographer Roger Arvid
Anderson wore out three pairs of shoes walking America: from Cape Cod on the Atlantic, to
Minneapolis on the Mississippi, to the Santa Monica Pier on the Pacific, literally from sea to
shining sea. As he discovered over and over again, you couldn't aim a camera without finding a
flag, that one common but mighty thread that united the country as we mourned the dead, saluted
the brave and reaffirmed our enduring commitment to the ideals of freedom.
All these years later, STAR-SPANGLED remains a look back at 9/11, but with a national
perspective. For those who never got to walk among the memorials at Ground Zero, this will be
their chance, and for those who never left Manhattan this will be their chance to see how the rest
of the country responded: the people, the places, the insightful crayon drawings of children, the
desperate messages of hope for the missing followed by the inevitable memorials posted in door
wells and windows all across America.
E. STAR-SPANGLED, The Journey
An essay by the photographer Roger Arvid Anderson, March 2009 (Visit Page)
F. ROGER ARVID ANDERSON, biography... (Visit Page)
G. WORK PLAN, BUDGET, STAFF AND SCHOLARS
Work Plan and Budget
Immediate goals for Star-Spangled, the project:
DIGITIZING IMAGES... Editing the 32,000 negatives down to 2500 primary images for the Image Bank and for use in making artist's books and eventually for exhibition prints.

All 32,000 negatives are from over 800 rolls of 35mm B/W film and from over 400 rolls of
120mm B/W film. All the negatives to be computer inventoried and cross-referenced. Those
negatives then need to be edited to 3500 primary images. A current edit shows that New York
alone will account for 1000 images. All primary images will need to be drum-scanned, then those
files will need to be dusted, burned, dodged and sized leading to a high-resolution file suitable
for posting online and for making prints. This process will require the assistance of EXPERT
DIGITAL SPECIALISTS experienced in photo-shop and in-design software.

The digital team on this project are experienced experts and paid accordingly.
The 120mm negatives are 6x9 cm in size and require huge files. Drum-scanning alone is a halfhour
per negative. Dusting, burning, dodging and sizing can require anywhere form 1 to 2 hours
for each image. The cost of digitizing both 35mm and 120mm files averages $100 each.

*A primary set of 3500 negatives needs to be digitized, that cost comes to $350,000.
For example, a $25,000 grant would fund the digitizing of 250 images.

MAKING A SET OF MASTER PRINTS... Both the 9/11 Museum in New York and the archives of the University of Minnesota are regional archival homes for this project. The goal is to add at least a West Coast archive. The 9/11 Museum has expressed a preference for larger prints, such as 20x24. Preliminary bids with professional printers such as Magnolia Editions in Oakland, CA come in at around $100 for each print on archival rag papers.

*A master set of 3500 images need to be printed, that cost comes to $350,000 for each set. For example, a $25,000 grant would fund printing 250 large-scale images on archival papers.


FOCUS BOOKS... these books can be done as trade books or exhibition catalogues, or as artist's books on more expensive papers and printed in limited editions. Book designer costs should be budgeted at $10,000 for each book, which would mean a fully realized book for online use and for use in on-demand printing.

*Focus books need to be edited, laid out and digitized, book designer costs are $10,000 per book.


EXHIBITIONS... exhibition goals are long term and dependent on the creation of the Image Bank. The potential is there, especially with the 9/11 Museum in New York, but that will require curatorial commitment and further funding once the Image Bank is established. Having the digital files will allow special exhibition prints to be made to scale, which could be huge given the vast proportions of the 9/11 Museum walls.

STAFF
Project Director: Roger Arvid Anderson, San Francisco, CA
Digital Specialist and Book Designer: David Wilson, San Francisco, CA
Digital Specialist and Book Designer: Andreas Jones, Berkeley, CA
Digital Specialist and Book Designer: Christopher Benson, Santa Fe, NM
Photo-shop Specialist: Paul Guerette, San Francisco, CA
Digital Specialist and Scanner: Alson Tom, San Francisco, CA
Digital Specialist: Galen Workman, San Francisco, CA
Archive advisor: Timothy J. Johnson, Minneapolis, MN
Scholar: Andrew Butterfield, Pleasantville, NY
H. MISSION OF ARTSPIRE, a program of the New York Foundation for the Arts
Artspire is a program of the New York Foundation for the Arts (NYFA), which is the largest provider of funding, information and services to artists in the Untied States. It is the nation's largest online directory of grants and services for artists, featuring over 9,000 opportunities. NYFA provides fiscal sponsorship for artist's projects that make a difference in our cultural lives. Fiscal sponsorship means an approved artist's project has access to funding from corporations, foundations, government agencies and individuals, utilizing NYFA's tax-exempt status as 501c3 corporation.
Reference website: www.nyfa.org